Damien Van Zyl,Damien Van Zyl Fitness Male Model,Damien Van Zyl fitness model,Damien Van Zyl male model,Damien Van Zyl male model photo,Damien Van Zyl male model gallery,Damien Van Zyl beautiful man,Damien Van Zyl muscular man, international model,Damien Van Zyl male model international,Damien Van Zyl muscular photo,Damien Van Zyl muscular gallery, muscular fitness, muscular model, Damien Van Zyl photo, Damien Van Zyl gallery, Damien Van Zyl news, Damien Van Zyl video, Damien Van Zyl model
Damien Van Zyl
Damien is one of the hottest male models of the moment – tall, lanky and as handsome in person as he is in print, he has what it takes to triumph in the tough world of fashion.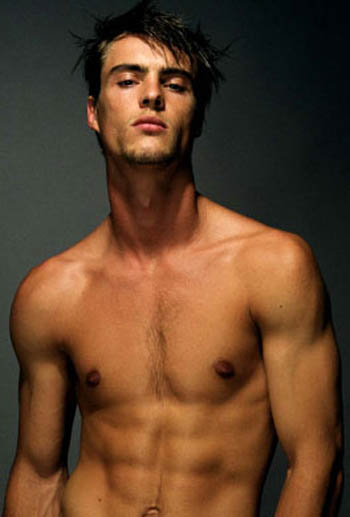 Damien Van Zyl was raised in a rural community in South Africa, far removed from the fashion centers of Europe and America. He has overcome all the obstacles to rise to the top of the fashion industry. He is the center of the attention not just because of his looks and the CK campaigns, but also his romantic involvement with Mick Jagger's daughter, Elizabeth Jagger who also happens to be a model actress.
Though he was noticed in 1998 by modeling scouts in Cape Town, South Africa, it's been a long, rocky climb to the top for Damien. Or, more correctly, a long crawl along the bottom and then, at last a dizzying rise. It seems that in the first two years, he's done everything in the fashion business except model. He went to Milan looking for a break, signed by Why Not Models, but nothing happened, so he became a photographer's assistant.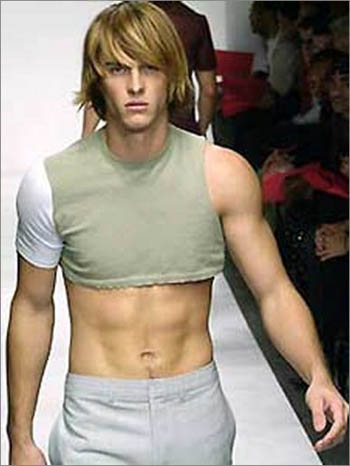 Then he went to New York in search of work. It wasn't long before he caught the eye of New York agents and made the transatlantic journey to join Q Models. The crossover was not immediately successful, and Damien ended up doing construction. He painted shop fronts. Before he walked the runways, he drove nails into them. He helped to arrange parties for Details magazine. Essentially, he joined the thankless ranks of the fashion world's maintenance crew. He went back to South Africa for a year and a half. When he returned, "my hair had grown out, and everyone wanted to know who I was," he says. Steven Meisel was a test shot, and Damien landed on the cover of the April issue of Italian Vogue 2001. "One Polaroid," he says, half-joining, "changing my life. Thank you, Steven."
Damien grew up on a farm in what he calls Nowhere, South Africa. "It's where a lot of diamonds come from," he says, "a semi-desert place, quite dry, not even part of the real world. There was not much to do, so we had to find stuff. And," he adds slyly, "when you're bored, you do anything." Damien relieved his boredom riding motorcycles and getting into trouble – "a good kind of trouble," he says, though he defined that as "stealing cars, all that kind of stuff."
"I was wild. I think it's in my blood," he says.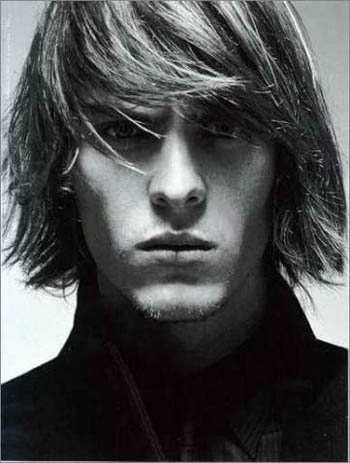 Modeling got him out of South Africa, and now he's looking for a steady gig. "I'd rather work every day than run around chasing clients," he says. "Then I can smile. And you get what you want, I get what I want….Just pay me my money!" Though he says that "I've gotten to see some interesting things and crazy people, fashion's too much for me."
To date, Damien has enjoyed enormous succcess in all three areas of the modeling industry: commercial campaigns, editorial, and runway. He has done high profile campaigns for Calvin Klein, Versace, Kenneth Cole, Tommy Hilfiger, Yves St. Laurent and Joop, as well as equally prestigious editorials. For the Calvin Klein Spring and Fall 2001, the designer himself, singled out Damien Van Zyl as the model of the moment. In that show, Damien opens and closes the runways for Calvin, just an indication of his growing popularity as a top model.
His personal life has also been in the headline of news. There was the romance involving Damien and the beautiful the daugther of Mick Jagger and fellow model, Elizabeth. Reports tell that Elizabeth caught Damien cheating on her, and they called it quits. It has been said that their relationship has been quite temperamental, sometimes violent. The extemely attractive Damien is single once again.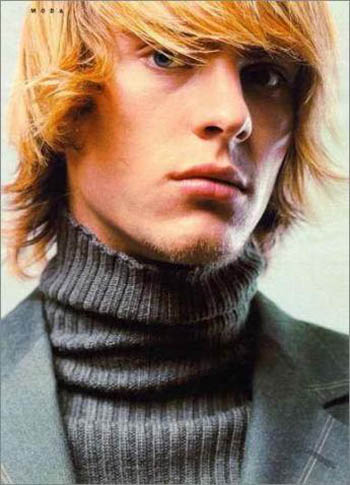 In reaction to these rumours, not to be perceived as someone with a violent temper, a number of fashion observers and insiders have only one thing to say about Damien. Almost all of them think he is a gentlemen. As one commented: "I've seen many attractive male models, but there is something in Damien that make me a little bit edgy…."
"He's simply gorgeous!" she added.
Damien will give modeling another two years or so, and then he'd like to move on to photography or acting. He says he has not come to "expect things from life."