Wrestling Athlete – John Cena, John Cena, John Cena fitness model, John Cena male model, John Cena male model photo, John Cena male model gallery, John Cena beautiful man, John Cena muscular man, John Cena international model, John Cena male model international, John Cena muscular photo, John Cena muscular gallery, John Cena fitness, Johan John Cena model, John Cena photo, John Cena gallery, John Cena news, John Cena video, John Cena model
Wrestling Athlete – John Cena
Jonathan Felix-Anthony Cena, born April 23, 1977 in West Newbury, Massachusetts, better known to his fans simply as John Cena, is an American professional wrestler and rap music artist, currently performing for World Wrestling Entertainment on the RAW brand.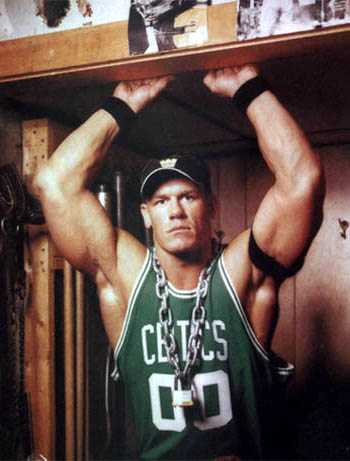 John Cena is the current WWE Champion, a belt which was exclusive to the SmackDown! brand between August 26, 2002 and June 5, 2005 and became exclusive to the RAW brand on June 6, 2005 when Cena was drafted to RAW during the 2005 Draft Lottery. He is also a popular rap artist in his own right, releasing two music cds and performing in live concert with Tha Trademarc and Bumpy Knuckles.
Cena attended Springfield College in Springfield, Massachusetts, where he earned a degree in exercise physiology (Springfield College has nationally renowned health and physical fitness programs). At Springfield, Cena played varsity football; he was a team captain and earned All-American honors.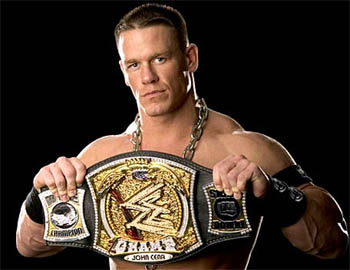 After moving to California to work at Gold's Gym, Cena enrolled in a wrestling school run by Ultimate Pro Wrestling and started wrestling there under the ring name Whiteboy Reggie. UPW had a working relationship with WWE, which soon took notice of Cena, signing him to a developmental contract and sending him to developmental promotion Ohio Valley Wrestling for further seasoning. While at OVW, he also appeared as a hunter on the UPN television show Manhunt, which WWE initially had a role in producing. He made his debut with WWE in 2002.
Cena was a typical face, which at first did not get much reaction from the fans; however, after an episode of SmackDown! where he performed a freestyle, his gimmick was changed to that of a white rapper. This gimmick at first got him a lot of heel heat from the fans, but he was later being cheered by them due to the freestyle raps he made on other wrestlers. During his run as a heel, Cena feuded with the Undertaker and Chris Benoit, and aligned himself with the Full Blooded Italians. One of Cena's symbols was a modified classic WWF logo (the double-W's only) with the slogan "Word Life."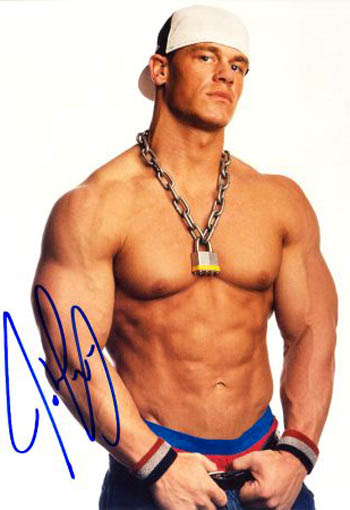 Initially, Cena also feuded with Brock Lesnar. During that feud, he derived his signature finishing maneuver, the F-U (a modified Death Valley Driver), as a counterpart to Lesnar's similar F-5 move. When Lesnar turned heel, they briefly joined forces. However, in the face of his growing popularity, Cena eventually turned face, betraying Lesnar and feuding with him again. Cena established his signature "You can't see me" catch phrase and hand gesture during this time as well. In a 2003 Survivor Series match, he was on a team led by Kurt Angle with Benoit, Bradshaw (before his heel turn) and Hardcore Holly against Lesnar, The Big Show, Nathan Jones, Matt Morgan and A-Train. In the end Cena hit the F-U on The Big Show and got the final pin, leaving him and Benoit as the sole survivors. The two superstars ended their feud there, though they would fight each other during Cena's run for the WWE United States Championship.
Cena has cut a series of rap music tracks. His fifth WWE entrance song, "Basic Thugonomics" was featured on the WWE soundtrack album WWE Originals. His track "Untouchables" was featured on Theme Addict, another WWE soundtrack album. His debut album You Can't See Me features his current entrance theme "My Time is Now".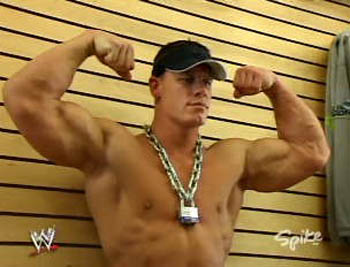 The first single off the album was "Bad, Bad Man". The music video for the song, a parody of 1980s culture and the television show The A-Team, premiered on an edition of SmackDown. WWE premiered the music video for Cena's second single, "Right Now", on the August 8 edition of RAW.
John Cena's first major movie role will be in the 2006 film The Marine, to be produced by WWE Films.