Swimming Athlete – Pieter van den Hoogenband, Pieter van den Hoogenband, Pieter van den Hoogenband Fitness Male Model, Pieter van den Hoogenband male model, Pieter van den Hoogenband male model photo, Pieter van den Hoogenband model gallery, Pieter van den Hoogenband muscular man, Pieter van den Hoogenband international model, Pieter van den Hoogenband model international, Pieter van den Hoogenband muscular photo, Pieter van den Hoogenband gallery, Pieter van den Hoogenband muscular fitness, Pieter van den Hoogenband muscular model, Pieter van den Hoogenband photo, Pieter van den Hoogenband gallery, Pieter van den Hoogenband news, Pieter van den Hoogenband video, Pieter van den Hoogenband model
Swimming Athlete – Pieter van den Hoogenband
At the 1999 European Championships in Istanbul, Turkey, Pieter van den Hoogenband joined the world's elite swimmers by winning gold medals in six events: the 50-meter, 100-meter and 200-meter freestlyes; the 4×100-meter freestyle relay; the 4×100-meter medley relay; and the non-Olympic 50-meter butterfly. Van den Hoogenband was denied an unprecedented seventh European crown when the Dutch 4×200-meter freestyle relay team, having won the final by over five seconds, was disqualified because of a false start. Instead, he joined Germans Michael Gross (1985) and Franziska van Almsick (1993) as the only swimmers to earn six titles at a single European Championships.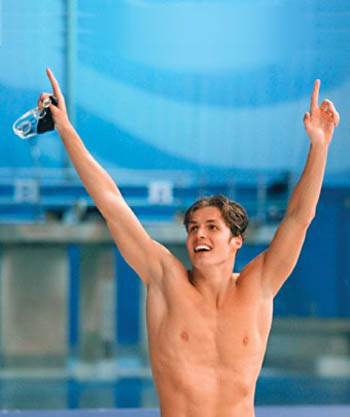 Beating the best
Van den Hoogenband's two most memorable races at the 1999 Europeans were against four-time Olympic champion Alexander Popov of Russia. In his eight-year international career, Popov had never lost a major 100-meter race until Istanbul, where he touched .35 seconds behind van den Hoogenband. Popov's time of 48.82 was his best in two years, and quicker than all but one of his major wins (he went 48.74 at the 1996 Olympics). At the time, van den Hoogenband's 48.47 was the third-fastest 100 in history, behind only Popov's world record (48.21) and Matt Biondi's American record (48.42). Also in Istanbul, van den Hoogenband dealt Popov his second-ever defeat in a major 50-meter freestyle final (Popov's other 50 free loss was to American Bill Pilczuk at the 1998 World Championships)
1996 Olympian
As an 18-year-old at the Atlanta Olympics, van den Hoogenband twice narrowly missed earning a medal, finishing fourth in the 100- and 200-meter freestyles. He also placed first in the B-final of the 50 free. After the Games, he took some time off to focus on school, where he'd been struggling due to his Olympic commitment. At the 1997 European Championships, van den Hoogenband's difficulties surfaced in the pool; he finished fifth in the 100 free, was disqualified in the 50 free and did not make the final in the 200 free. However, he redeemed himself at the 1998 World Championships by winning his first international medal, a bronze in the 200 free behind Michael Klim of Australia and Italy's Massi Rosolino.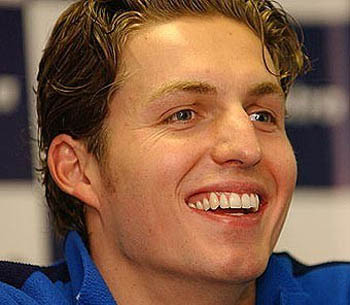 Mom pools resources
A year prior to the Atlanta Games, van den Hoogenband's mother, Astrid Verver, a former 800-meter freestyle silver medalist at the European Championships, became frustrated with the young swimmers she was coaching. Her son was only one of the Dutch athletes she thought had tremendous potential. But facilities and resources were limited, so she pleaded with her husband, a former water polo star and now a doctor with one of the country's biggest soccer clubs, PSV Eindhoven, to do something about it. When his wife threatened to remove their son from the sport, he took action, creating a small foundation, initially with 15-20 sponsors paying $2,500 a year to help fund a team trainer. Then, through his soccer contacts, he brokered lucrative deals with Phillips, Nike, and Speedo, and organized televised swimming galas to underwrite a private swimming school in Eindhoven, a southern Netherlands town. Within a year, the small project of six swimmers had grown to 10.
From water polo to swimming solo
Van den Hoogenband first played water polo as a youth, but realized his future was in sprint swimming when teammates kept underestimating his speed when trying to pass him the ball. Van den Hoogenband idolizes Biondi, himself a combination swimmer/water polo player. He has many of the five-time Olympic champion's races on tape, and when he heard Biondi's 100-meter freestyle world record had been broken, van den Hoogenband remembers thinking "that it must have been superman." (It was Popov.) The Dutchman himself holds one noteworthy standard: in December 1999, he lowered the 10-year-old European record in the 200 free to 1:46.58.
Van den Hoogenband listens to hard rock, especially Pearl Jam, and cites a Pearl Jam concert he attended in Rotterdam among his lifetime highlights. He listens to tapes of the Seattle-based band to psyche himself for races, although he admittedly still gets nervous on the blocks awaiting the starter's whistle.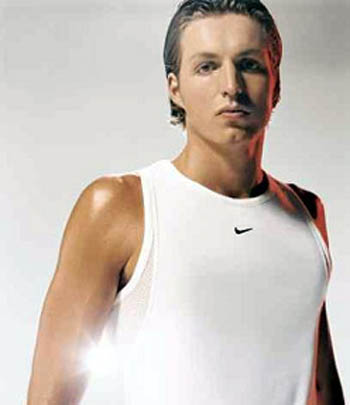 Athens 2004
Pieter van den Hoogenband successfully defended his Olympic 100-meter freestyle title in Athens. Van den Hoogenband won the gold medal in 48.17 seconds — 13-hundredths of a second faster than his winning time at the Sydney Games four years ago. Roland Schoeman of South Africa, who trains at the University of Arizona, took silver in 48.23. Australia's Ian Thorpe earned bronze in 48.56.
Pieter also won silver in men's 200-metre freestyle final behind Ian Thorpe of Australia; and American Michael Phelps was in third most of the way, setting an American record of 1:45.32. But that was only good enough for bronze.