Best American boxer – Oscar De La Hoya, Oscar De La Hoya, Oscar De La Hoya Fitness Male Model, Oscar De La Hoya male model, Oscar De La Hoya male model photo, Oscar De La Hoya model gallery, Oscar De La Hoya muscular man, Oscar De La Hoya international model, Oscar De La Hoya model international, Oscar De La Hoya muscular photo, Oscar De La Hoya Beyeler gallery, Oscar De La Hoya muscular fitness, Oscar De La Hoya muscular model, Oscar De La Hoya photo, Oscar De La Hoyagallery, Oscar De La Hoya news, Oscar De La Hoya video, Oscar De La Hoya model
Best American boxer – Oscar De La Hoya
Oscar De La Hoya became the "Golden Boy" of boxing with his surprising win of a gold medal in the 1992 Olympic Games. Since then he has captured five boxing titles in five different weight classes, ranking him among boxing's elite. He has often been referred to as the best contemporary American boxer.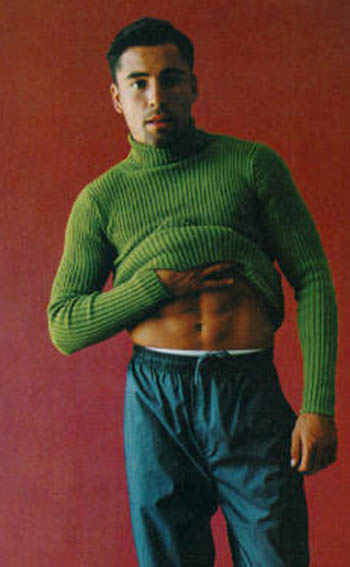 Oscar De La Hoya was born on February 4, 1973 in East Los Angeles, California. His parents had immigrated to the United States from Mexico. De La Hoya's family was poor when he was growing up. His father, Joel Sr., worked as a warehouse clerk for a heating and cooling company and his mother, Cecilia, was a seamstress. De La Hoya had two siblings–an older brother named Joel Jr. and a younger sister, Ceci.
Boxing was a tradition in the De La Hoya family. De La Hoya's paternal grandfather, Vincente, was an amateur featherweight in Durango, Mexico, and his father had a brief professional boxing career in the United States with a 9-3-1 lightweight record. As De La Hoya told Interview magazine, "Boxing has been in my blood since I can remember. It comes naturally to me, and I've enjoyed it ever since I started, at the age of six." As a child De La Hoya would join his father and older brother at the Pico Rivera Sports Arena. The family had assumed that Joel, as the oldest son, would continue the family's boxing tradition. De La Hoya himself admitted that he was an unlikely candidate to become a boxer. "I was a little kid who used to fight a lot in the street–and get beat up," he told Sports Illustrated.
Started Boxing at an Early Age
De La Hoya's father put him in the ring for the first time when he was six years old and he won his first match against a neighborhood kid. By the time he was 11 years old he was winning competitions. Soon De La Hoya began to train at the Resurrection Boy's Club Gym with Al Stankie, who had trained another East Los Angeles boxer, Paul Gonzales, to an Olympic Gold medal. De La Hoya's career quickly began to soar. At the age of 15 he won the National Junior Boxing Championship at a weight of 119 pounds and a year later he won the National Golden Gloves title at a weight of 125 pounds.
In 1990 when De La Hoya was only 17 years old, he won the U.S. National Championship in the 125-pound division and he won a gold medal at the Goodwill Games. He was the youngest U.S. boxer to compete in that event. It was after the Goodwill Games that De La Hoya learned that his mother was dying of cancer. She had wanted to keep her illness a secret until after the Goodwill Games so that her son could focus on his competition. In October 1990 Cecilia died of breast cancer at the age of 38. She had always hoped that her son would win a gold medal at the Olympics and her untimely death gave De La Hoya a concrete goal for the next two years.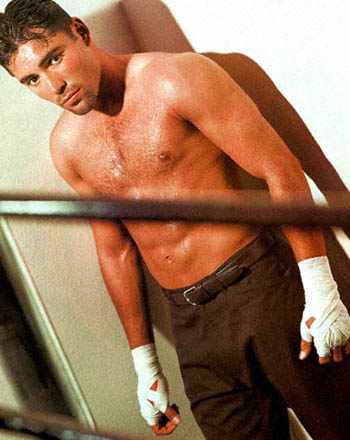 Won Olympic Gold
De La Hoya continued his success as an amateur boxer. In 1991 he won the U.S. Amateur Boxing National Championship in the 132-pound division and he was named Boxer of the Year by USA Boxing. During this time De La Hoya changed trainers because of Stankie's problems with alcohol. His next trainer was Robert Alcazar, an ex-boxer who had worked with Joel De La Hoya, Sr.
While he easily made the U.S. Olympic team, De La Hoya was not expected to make it past the first round of Olympic competition. His first opponent was Cuba's Julio Gonzalez, a 27-year-old four-time World Amateur Junior Lightweight champion. De La Hoya won the match in a 7-2 decision, which was considered the biggest boxing upset of the Olympics. His second round match against Korean champion Hong Sung Sik was close, with De La Hoya winning by only one point. De La Hoya also beat Adilson Silva, Dimitrov Tontchev, and finally defeated Marco Rudolph of Germany for the gold medal. De La Hoya was the sentimental favorite of the Games since the media had promoted his story about a son trying to fulfill his dying mother's wish. However, his victory took everyone by surprise. De La Hoya celebrated by carrying the American and Mexican flags around the ring. He told Los Angeles Magazine, "The American flag was for my country; the Mexican flag for my heritage." After this accomplishment De La Hoya was nicknamed the "Golden Boy" by the media and that name has stayed with him throughout his career.
Became Knock-Out King
The Olympics was the last event of De La Hoya's amateur career and he ended with an amateur record of 223 wins and 5 losses, with an impressive 153 knockouts. After the Olympics De La Hoya decided to turn professional. As he told Sports Illustrated, "I won the gold for my mom. Now the championship will be for me." On September 4, 1992 De La Hoya signed the richest deal in boxing history for over $1 million with New York agents Robert Mittleman and Steve Nelson. The deal included money for a house for his family in Montebello, quite a step up from the barrio in which he grew up.
De La Hoya's first professional fight was on November 23, 1992 against Lamar Williams. He knocked Williams out in the first round. His next opponent, Cliff Hicks, suffered the same fate in December 1992. In 1993 De La Hoya won nine more fights, mostly with knockouts. While young boxing professionals often fight less talented opponents in order to improve their record, De La Hoya fought some tough competitors early in his career, including Mexican champion Narcisco Valenzuela. Despite his professional and popular success, De La Hoya broke his contract with Mittleman and Nelson in December 1993 after only one year because he wanted more control over his career. Instead he chose to be advised by his father, his cousin Gerardo Salas, and Los Angeles advertising consultant Raynaldo Garza. At the same time De La Hoya signed a three-year deal with promoter Bob Arum, one of the biggest promoters in boxing.
In 1994 and 1995 De La Hoya continued his winning streak. On May 6, 1995 he captured the International Boxing Federation lightweight title against Rafael Ruelas. However, an earlier fight against John John Molina made De La Hoya question his strategy. Even though he won the bout, De La Hoya was disarmed by Molina's style and he felt he needed a more experienced trainer to better prepare him for his matches. In February 1995 De La Hoya replaced family friend Robert Alcazar as his trainer with Jesus "The Professor" Rivero. Rivero's philosophy was to develop the boxer as a whole person, both in and out of the ring. He encouraged De La Hoya to develop his mind by reading literature and listening to classical music.
Capitalized on Golden Boy Image
De La Hoya built his career not only on his professional accomplishments, but also on his popularity with the media. His good looks, rags-to-riches life story, and charming personality made him one of the public's best known and most liked boxers. He was confident, ambitious, and successful. "I want to make history," he told Sport magazine, "I want to win seven world championships in seven different weight classes from 130 pounds to 168 pounds." He told Sports Illustrated for Kids that his secret for success was the "D formula." "My three D's are dedication, discipline, and desire." De La Hoya capitalized on the "Golden Boy" image in the ring through lucrative deals with HBO to televise his fights. He also cashed in on his success outside of the ring as a spokesperson for Champion athletic shoes, B.U.M. equipment
clothing, Levi, John Henry Menswear, and McDonald's, among others.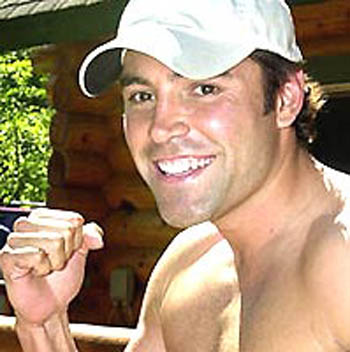 However, De La Hoya's success has not made him popular with some members of the Hispanic community. In fact, one of his biggest professional successes actually decreased his popularity. In 1996 De La Hoya beat the famous Mexican boxer Julio Cesar Chavez, his boyhood boxing idol, in a bloody battle for the World Boxing Council super lightweight title. Some Hispanics were disenchanted by the Golden Boy's pummeling of a hero. In addition, De La Hoya has been labeled a "sellout" because of his financial success. He moved out of the barrio to a wealthy neighborhood and he spends his free time at country clubs or on the golf course. This has led some to accuse him of abandoning his Mexican-American roots. In 1996 an article in Esquire magazine described " the contradictions that define Oscar De La Hoya. He's the pretty boy of an ugly business; a child star spinning in a constellation of has-beens; Mexican by blood, American in his inclinations; barrio by birth, country club by preference." In addition, De La Hoya's personal life generated some negative press. He was engaged a few times, he fathered two children out of wedlock, and he faced a palimony suit by ex-fiancée and former Miss USA Shanna Moakler.
Experienced First Losses in the Ring
Despite controversy outside of the ring, De La Hoya continued to win matches throughout 1997 and 1998. He also added another title to his collection, beating Pernell Whitaker for the World Boxing Council welterweight title on April 12, 1997. However, the Golden Boy's run came to an end in 1999. In a much anticipated match De La Hoya lost the WBC welterweight title to Felix Trinidad on September 18, 1999. Rather than the usual bloodbath, De La Hoya danced around Trinidad in a way that did not impress the judges. "I've proved that I can stand in with anybody, but this time I wanted to put on a boxing show," he told Sports Illustrated, "I think I have the boxing lesson of my life." In reality De La Hoya gave up his title. Sports Illustrated went on to write, "It was not a fight that Trinidad won; it was a fight that De La Hoya perversely handed over."
De La Hoya recovered from his loss by beating Derrell Coley with a knockout in February of 2000. However, in June of the same year he suffered another loss at the hands of welterweight Shane Mosley. Disappointed by two major losses in less than a year, De La Hoya decided to take a break from boxing to pursue his other passion–singing.
Pursued Other Interests
De La Hoya's musical interests came from his mother who was a ranchera song stylist in Mexico. On October 10, 2000 De La Hoya released his self-titled debut album with EMI Latin. The bilingual collection of love ballads featured the single "Ven a Mi" ("Run to Me"), written by the Bee Gees. "In a way, this album is like me giving something back to my Mexican and Latin roots," De La Hoya told Billboard magazine. "But it also had to represent all of America–and not just because I was born here." The album was nominated for a Grammy.
In 2001, at the age of 28, De La Hoya returned to the ring in search of redemption. He won a match against Arturo Gatti and he won the World Boxing Council junior middleweight title from Javier Castillejo. With his victory against Castillejo, De La Hoya became the youngest boxer to win world titles in five weight classes and he joined the ranks of Sugar Ray Leonard and Thomas Hearns for this distinction. In May of 2002 De La Hoya was scheduled to fight Fernando Vargas for the super welterweight title.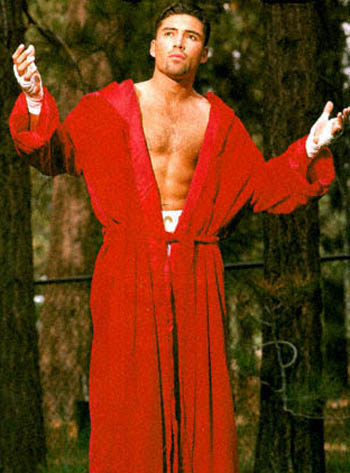 De La Hoya's future in boxing is uncertain. Earlier in his career he stated that he could not imagine boxing past the age of 30. However, he would still like to avenge his losses to Trinidad and Mosley. His priorities may also have changed due to his personal life. In October of 2001 De La Hoya married Puerto Rican pop singer Millie Corretjer and moved to Puerto Rico. He also has several other interests outside of the ring. In 2001 De La Hoya established his own boxing promotional company called Golden Boy Promotions. He also founded the Oscar De La Hoya Foundation to sponsor Olympic hopefuls and he is renovating the Resurrection Gym where he trained as a child into the new Oscar De La Hoya Youth Boxing Center. He has also considered going to school to pursue architecture. As he told Interview magazine, "I really have a passion for designing." Whatever De La Hoya decides to undertake, if he does it with the passion he's used to box, he'll certainly be successful and exciting to watch.