Baseball Athlete – Gabe Kapler, Gabe Kapler, Gabe Kapler fitness model, Gabe Kapler male model, Gabe Kapler male model photo, Gabe Kapler male model gallery, Gabe Kapler beautiful man, Gabe Kapler muscular man, Gabe Kapler international model, Gabe Kapler male model international, Gabe Kapler muscular photo, Gabe Kapler muscular gallery, Gabe Kapler muscular fitness, Gabe Kapler muscular model, Gabe Kapler photo, Gabe Kapler gallery, Gabe Kapler news, Gabe Kapler video, Gabe Kapler model.
Baseball Athlete – Gabe Kapler
Gabe Kapler was born on August 31, 1975. A workout buff who has appeared on the cover of fitness magazines (and whose mother works at a Jewish pre-school), Kapler was a member of the Boston Red Sox World Championship team in 2004, having also played with Boston in 2003 when they reached the AL Championship Series. In November 2004, Gabe signed a contract with the Yomiuri Giants to play the 2005 campaign in Japan.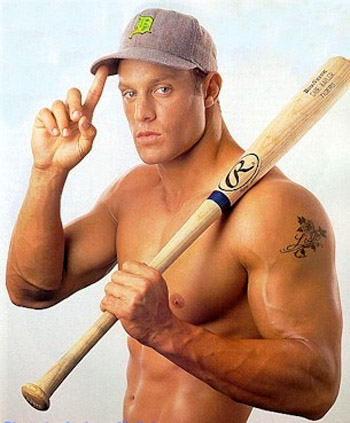 Kapler has a Star of David tattooed on one leg and the post-Holocaust motto "Never Again" on the other.
On September 26, 2001, Los Angeles Dodgers star Shawn Green sat out a game that fell on Yom Kippur. When asked whether or not he would do the same, Kapler said, "What Shawn is doing is commendable..That makes my decision that (much) more difficult. Nobody is more proud of their heritage than I am and nobody is more proud of being Jewish than I am. It's something I have to mull over. I have mixed emotions. I don't want to appear hypocritical because… I don't know what I would be doing if I wasn't playing baseball that day. It might not be going to the synagogue." Kapler ended up playing on September 26, which was a day game and ended before the start of Yom Kippur. Gabe went 3-4 with two home runs that day, but the Rangers lost to Seattle, 7-5.
In 2004, Green again sat on on the holiday while Kapler played. Kapler has called himself a role model for young Jewish fans, but said of his decision, "I am not really a practicing Jew. It would be selfish to be a practicing Jew on only one day."
Career Highlights
In 1998, Gabe earned Minor League Player of the Year Honors from Baseball Weekly, The Sporting News and USA Today. That same year, he was the Southern League MVP as well as the Southern League All-Star Game MVP. During his rookie season with Detroit (1999), he hit 18 home runs and knocked in 49 RBI in 130 games. After the season, the Tigers traded Kapler and other players to Texas for a package including former league MVP Juan Gonzalez.
Playing for the Rangers in 2000, Gabe had a 28-game hitting streak for Texas, a team record and the longest in the majors for the 2000 season. He ended the year hitting a robust .302, with 14 homers and 66 RBI in only 116 games. His 32 doubles were second in the league, and he also added 8 stolen bases.
In 2001, Kapler played well for the struggling Rangers (73-89, last in the AL West) and was the team's regular center fielder. In 134 games (third most on the club), he hit .267 (129-483) with 17 HR, 72 RBI, 77 runs, 29 doubles, and a .437 slugging percentage — he also led the team with 23 stolen bases. Gabe, who played exclusively in center field for Texas, had a marvelous defensive year with a .997 fielding percentage (1 error in 352 total chances), and 8 assists.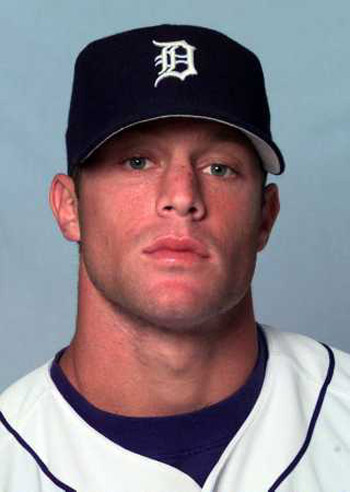 Kapler started the 2002 season as "the most athletic and the most versatile" of all the Texas outfielders, according to his manager, Jerry Narron; which was quite a tribute, considering Gabe's outfield teammates included such established stars as Juan Gonzalez and Carl Everett. The Rangers didn't play him regularly, though, and just before the July 31 trading deadline, Gabe was traded to the Colorado Rockies.
He, and the Rockies, hoped the change of scenery would help him realize his enormous potential. During the remainder of 2002 season, he played 40 games with Colorado and hit a rousing .311 (53-119) with three triples, two home runs and 17 RBI. The Rockies, though, were only good enough to finish 73-89 and in fourth place in the NL West.
Kapler began the 2003 season with the Colorado Rockies. Gabe appeared in 39 games and hit .224 (15-67) with four RBI and 10 runs scored before being optioned to AAA Colorado Springs on June 4. Kapler played in 10 games with Colorado Springs, hitting .200 (6-30), and was released on June 20. Four days later, Gabe was signed by the Boston Red Sox. He made a sensational debut with the Bosox on June 28, going 4-5 with three RBI against the Florida Marlins. In his second start, Kapler continued his torrid hitting, going 3-4 with two HR, three runs scored and four RBI.
Kapler finished the 2003 season with the Red Sox and had a batting average of .291 (46-158) with four HR, 23 RBI and 29 runs in 68 games. Boston finished in second place in the AL East with a record of 95-67 and clinched the AL wild card. Earlier this season, Gabe said of playing in Boston, "Hitting in a lineup like this, its easy to see good pitches. Success breeds confidence. This has been an incredible experience all the way through…"
In the Divisional Series, the Red Sox made an improbable comeback against the Oakland A's, down two games to none, they won the final three games to capture the series. In the AL Championship Series, the Sox played their dreaded rivals, the New York Yankees, and lost a terrific, tightly-contested series in seven games.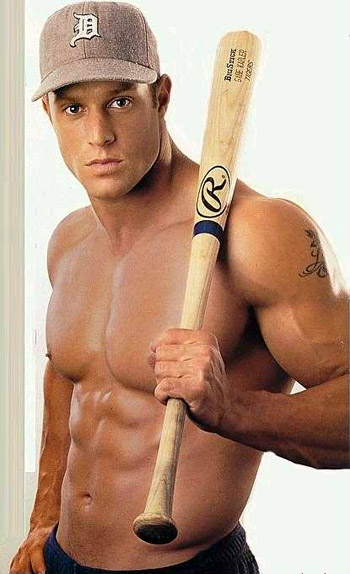 During the 2004 season, Boston clinched the wild card spot in the American League (98-64 record) and then swept the Anaheim Angles in the AL Divisional Series. Boston then made history by sweeping four straight games from the mighty New York Yankees after falling behind, 3-0, in their playoff confrontation. The Red Sox then swept the St.Louis Cardinals, 4-0, in the World Series. Gabe was in right field when Boston won the Series by shutting out the Cards, 3-0, in game 4.
During the 2004 regular season, Kapler played in 136 games and hit .272 (79-290) with six HR, 33 RBI and 51 runs scored.